Welcome to TransProof


TransProof is owned and managed by Dina Awadallah, a professional and experienced Arabic editor/translator with extensive experience in proofreading, copy-editing, copy-writing and Content Optimisation.


Being a native Arabic speaker, Dina specialises in English to Arabic translations. TransProof also offers first-class English and Arabic editing, proofreading and Content Optimisation services for individuals and businesses alike.
TransProof specialises in website and document translation, with a focus on:
• Marketing and PR
• Business and Finance
• Tourism and Travel
• Environment and Ecology
• Political Affairs
• Education and Learning
Dina Awadallah has worked in the translation and editing industry in the United Kingdom since 2005. With more than 10 years of experience, Dina recognises that clear, concise content is essential to the credibility of any written work.

The main objective of TransProof is to help clients all over the world to write more clearly and professionally and expand their outreach to target and engage Arabic-speaking audiences.

Wherever you are, whatever your services or products, TransProof can help you to communicate your intended message effectively and clearly to your target audience in the Arab world.

Dina is a volunteer translator at:

Translators without borders, Profile:

http://twb.translationcenter.org/workspace/accounts/view/id/4421

Translations for Progress, Profile:

http://www.translationsforprogress.org/showTransl.php?id=3034

Testimonials

"I have been working with Dina Awadallah for a few years now on SEO work as well as translations. Her work standards are superb and you really feel like you're being taken care of. She always makes sure to deliver her best in any possible situation. For Arabic language work, I wouldn't go anywhere else. Outstanding service." -- Rafael Ribeiro, Oban Multilingual


"Asfory, Inc has dealt with Dina since 2001, during which time she has provided our business with excellent support in the areas of website maintenance and site optimisation. Her work has been a major factor in our website's success." -- Egllal Rakem, Chief Operating Officer Asfory, Inc

"Dina did the translation from English to Arabic on time for the website (www.greenactor.org). Furthermore she did have a look on the website when the translation was online to proofread it. On another level, Dina has been friendly in her e-mails. Thanks!" -- Ben Larcher, E-cosystems
"We contacted Dina for the translation of three English documents into Arabic. We were pleased with the quick response to our initial query and delighted to find that she was able to complete the assignments with utter professionalism, accuracy and punctuality. We are really grateful for the certified translation service we received. We would highly recommend her service to anyone dealing with any translation needs." – Pamela Forner, CELCT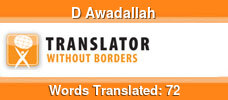 English to Arabic volunteer translator
I am also a professional translator :